Project No. C4/1: Castle Music Score Covers
Go to: Second draft Job Story "Castle" Illustration "Castle Music" Typestyle
---
First Draft
Click on areas of the image below to enlarge.
Click here to see the same design in a different colour.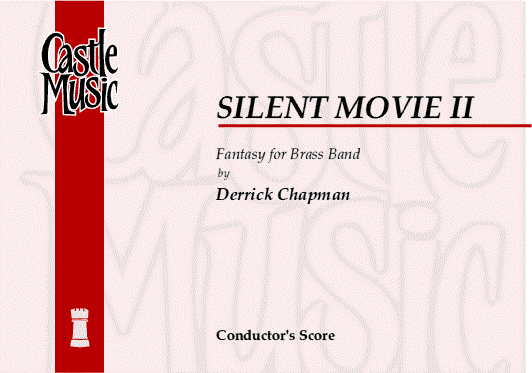 ---
Job Story
In February 2001, Derrick Chapman (DC) asked me to think about ideas and possible
costs for the design of score covers for short-run music publications.

The aim, in my opinion, is to design a "look" to the scores so that
they are recognisible as having come from Castle Music. At the same time, it
would be desirable to achieve this in the most efficient way, production-wise
and cost-wise.

My first idea is to print many blank sheets which would contain a new Castle
Music logo and an attractive design. These would then be run through CM's laser
printer to add the title, subtitle, composer, and other information: the quantity
can be as little as one, as many as there are 'blank' sheets available. In the
example above, the 'blank' sheet would contain the logos, the crimson band down
the left-hand side, and the faint background. The text ("Silent Movie II etc")
would be added via the laser printer. The title of the piece would go above the
crimson rule, all other information below. It would be easy to prepare an Impression
which lined up the text in the right positions.

A selection of 'blank' sheets could be printed in different colours, according to
the type of publication. (click here to see another colour.)

An alternative approach would be to provide a template in Impression into which
any of a number of designs could be dropped. The text would be added and the
resultant file emailed to a printer. One advantage of this is the ability to order small
quantites to be digitally printed; another is that the titles could be printed in any
colours.
---
DC phoned up saying he was very pleased with the design, but wanted some small changes.
He also asked me to think about a new logo for Castle Music (Project No. C4/01).
---
13th March: Having come up with some new ideas for the logo, I have applied one
to the score cover (see above). View alternative logo designs here.
---
Back to top
Email Nigel Gatherer