Where is this Cup ?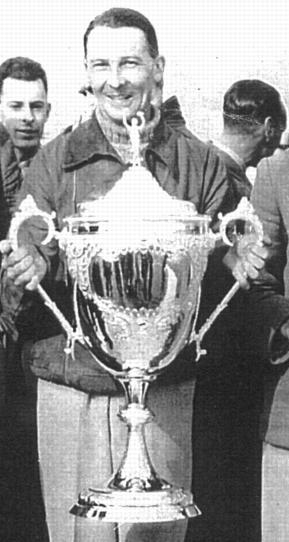 This picture shows Edward Fraser "Ted" Walter holding the cup awarded for a club navigation competition at the opening of Doncaster Airport in 1934. He led a team of three pilots from the Brooklands Aero Club.
The cup was originally bought by Doncaster Corporation, and intended to be the major prize at the 1909 Doncaster Air Meeting. However it was decided that no one had performed sufficiently well, and it was not awarded but stored until 1934. One of the rules of the 1934 competition was that, if the winning club ceased to exist, the cup should be returned to Doncaster. The mystery is, what happened to the cup, since the Brooklands Club did not survive WWII, although the parent company Brooklands Aviation Ltd. moved to Sywell., although it is no longer in business. Did anyone see it at Sywell at any time, or is it somewhere in Doncaster ?
The Brooklands Museum is recovering from the recent flood and is unable to help at the moment.
Ted Walter's claim to fame is that he was engaged to Jean Batten for a short time in the 1930's, some details of his career can be found in "Jean Batten, Garbo of the Skies" by Ian Mackersey. During WWII, Ted Walter was an instructor at 43 Operational Training Unit, training Army officers as Air Observation Post pilots on Austers. He was born on 26 May 1898 and died on 19 November 1965
If anyone can provide any information about the cup or about Ted Walter, I would be very pleased to be able to pass it on to his niece who originated the query.
How to contact me
You can email me at vicsmith@argonet.co.uk (or just click on this link)