Rydal Mount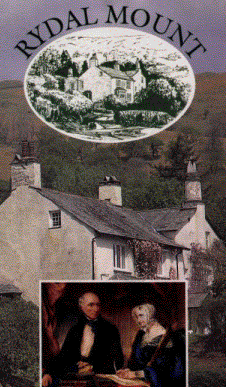 Rydal Mount was the home of William Wordsworth from 1813 -1850.
Rydal Mount, in the heart of the Lake District, lies between Ambleside and Grasmere and commands glorious views of Lake Windermere, Rydal Water and the surrounding fells.

The house, which now belongs to descendants of the poet, retains a lived-in, family atmosphere and has seen little change since Wordsworth and his family came to live there in 1813.
The dining room, part of the old Tudor cottage, with it's original flagged floor and oak beams, contrasts pleasingly with the larger proportions of the drawing room and library, added in 1750. Also to be seen are the family bedrooms and Wordworth's attic study which he used when he was poet Laureate.

The house contains portraits, personal possessions and first editions of the poet's work.
Wordsworth was a keen landscape gardener and the four acre garden remains very much how he designed it. It consists of fell side terraces, including the recently discovered 'Dora's Terrace', lawns, rock pools and an ancient mound.

There are rare shrubs and, in season, the daffodils, bluebells and rhododendrons produce a spectacular display of colour.

One and a half miles from Ambleside on the A591 Grasmere Road. Free parking.

Open,

Summer, March to October, 9:30 am - 5:00 pm.
Winter November to February : 10:00 am - 4:00 pm.
( Closed Tuesdays in Winter. )

Rydal Mount.
Ambleside, Lake District LA22 9LU.
Tel : ( 015394 ) 33002.
Fax: ( 015394 ) 31738.

---
This was typed by Louise Hann, year 7.
---
Louise created this page during IT lessons as she was learning to use a word processor and scanner. The background is 'borrowed' from elsewhere on the Lakes Web site.
---