Rushbearing!


The Rushbearing is an old tradition of walking round the village carrying rushes. People used to walk around the village carrying rushes then they would go to church for a service. After the service they would lay the rushes on the floor because there were leaks. But we do it differently now.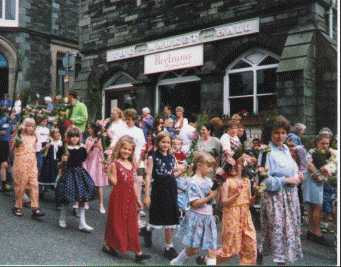 We parade round the village caring rushes decorated with flowers. We walk round in our school classes. In between each class three people will be carrying special shaped rushes. People who don't go to school are at the back.
After the parade we go to church for the service. The vicar always talks about the world and why we have Rushbearing. On the way in you hand in your rushes to decorate the church with. On the way out we also get given ginger bread. Then we go and get a free lunch which contains a sausage roll, an apple, a packet of crisps, a pink or orange drink and a chocolate biscuit. We then have time to eat and drink our lunch and get changed for sports.
We then go down to Ambleside CofE Primary School playing fields and have races. The winner gets a toy or a voucher. At the end of the races there is one big race which goes up Loughrigg, it is called the Fell Race.
Ambleside is one of the only three places in the world which has a rushbearing. It has been going for years and will go on for many more years.
The picture is of me, Danika Bell, and my friend Thea Walton taking part in the Ambleside Rushbearing. It was taken a few years ago now.
---
by Danika Bell, Year 7
---
Danika created this page during her IT lessons. She researched the material in the school library and with help from the Rev. Robert Fisher. The theme for the page arose from the Lakes School link with schools in Sweden and Finland, a project which has received support from the Comenius project.
Danika learned to use a word processor, a scanner and a painting program (to produce the background herself) in the course of creating this page.
---
Pupils work index

Lakes Home page