Kendal, Cumbria
My URL: http://come.to/kendal



I got it for free at http://come.to
---
Kendal offers more than a splendid market town with historic buildings, friendly people and an excellent selection of places to eat and drink. Within it's boundaries are a superb range of tourist attractions. Award winning museums, outstanding shopping (including factory and speciality), a beautiful 13th Century Parish Church, colourful markets, the home of Webbs 'Wonderful' lettuces, exciting leisure and arts facilities and an unusual Tapestry and Reptile exhibition are all within easy walking distance of the centre of town.
This page details all the key sites- make sure you don't miss any!
---
Kendal Attractions
Markets
The Market Hall is on the upper level of the Westmorland Shopping Centre. 18 permanent units fitted to a high standard, trade 6 days a week. 20 additional tables accommodate a different selection of traders each day, on Mondays the main theme is second-hand goods.
Street markets are held in the pedestrianised market place with additional stalls along Stramongate.

Opening Times:Market Hall; Mon-Sat inclusive 9am - 4.30pm.
Selective Bank Holiday and Sunday (Pre-Christmas) opening.
Street Markets every Wednesday and Saturday 8am - 4pm
Telephone: 01539 733333

See also South Lakeland Markets
---
1657- the Chocolate Shop
If you read the Personal view of Kendal page you will find further details about 1657. However, we were recently (May 2000) emailed by someone who had visited Kendal suggesting that 1657 should really be mentioned on this 'front' page. So here it is.
The following is quoted from their email....

We spent a lovely afternoon in a chocolate house called 1657 in your town of Kendal. We were greeted by some lovely staff and also the owners Mr & Mrs Moore. We tasted some excellent chocolate cakes, drinks and sweets in both the shop and the restaurant and we feel that this place should be promoted much more so that other visitors can enjoy the same pleasure.
This would be our personal recommendation for anyone living or visiting Kendal.

More details on the Personal view of Kendal page.
---
Westmorland Shopping Centre
Westmorland Shopping Centre is situated in the heart of Kendal and is a great place for shopping in a pleasant relaxed environment. Featuring major stores such as Argos and Principles, smaller speciality shops, traditional restaurants and entertainment are open all year round.
Arriving by car or bus, access to the Centre is trouble free with car park and bus station directly linked to the Centre.

Opening Times:: Mon - Sat 9.00am - 5.30 pm.
Telephone: 01539 740060
---
Kendal Reptiles
A fascinating collection of reptiles and other creatures in a carefully controlled heated micro climate. From tiny tree frogs to 15ft pythons, there is something of interest for visitors and enthusiasts alike. situated on the main street at the northern end with entrance through Halls Pet Stores.
Opening Times: Mon-sat 9am-5pm Sundays (Easter to October)10.30am-4.30pm
Admission: Adults £2.25 children and OAP's £1.30 Family Ticket £6
Telephone: 01539 721240
---
Webbs Garden Centre
As the home of the Webbs 'Wonderful' lettuce Webbs is an ideal place to visit for all, boasting acres to wander round, thousands of plants and gifts to view and The Gardeners Cafe, where home-made snacks can be enjoyed. Webbs is Lakelands premier garden centre with a history to be proud of. Established 1810.

Opening times: Mon - Sat 9am - 6pm Sun 11am - 5pm
Telephone: 01539 720068
---
THE QUAKER TAPESTRY
Over 60 panels make up the tapestry made in 1981 to celebrate the ideas and experiences of Quakers since their founding in 1652. More than 4000 in 15 different countries have helped to make the tapestry and it can be seen in Kendal's historic meeting house.
Opening times Mon - Sat 10.00am - 5.00pm
Telephone: 01539 722975

---

Kendal Leisure Centre
A warm welcome awaits visitors to Kendal Leisure with facilities including a multipurpose sports hall/theatre, Fitness room, squash courts, main and learner swimming pools, sauna/solarium, bar lounge and cafe and free car parking. Reduced price tourist memberships are available for family groups and a special Monster Inflatable sessions in the pool.

Opening times: Mon - Sun 7.45am - 11.00pm
Telephone: Sport 01539 729777
Telephone: Theatre 01539 729702

---

K Village Factory Shopping
Lakeland's newest and brightest experience. K-Village is a new and unique shopping experience. Now under one roof, you can choose from the widest range of quality high street brands at factory prices offering outstanding value. But it's much more than just shopping. With a restaurant, heritage centre, and childrens play area and ample parking, it's a great day out.

Opening times: Seven days a week. Weekdays 9.30am - 6.00pm, Saturday 9.00am -6.00pm Sundays 11.00am - 5.00pm, Bank Holidays 9.00am - 6.00pm.
Telephone : 01539 721892

---

Kendal Parish Church
Inside the church (built in 13th century) you can see the Parr Family Chapel, Robin the Devil's Helmet and the ornate font cover. Activities include: Brass rubbing and a special trail for kids to the follow. Cards and books are available on the bookstall.

Opening times: Mid Mar - end of Oct daily 10.30am - 4.30pm
Telephone : 01539 721248

---

Abbot Hall
Discover the life and art of the Lake District in Kendal's award winning museum and gallery. The collection at Abbot Hall includes work created in the area as well as a wide range of other fine art while the Museum of Lakeland Life and Industry is a fascinating look at 200 years of Lakeland history.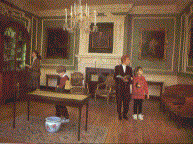 Coffee shop serves refreshments and lunches.

See also Abbot Hall

OPENING TIMES (1999)
Open Daily from 12 February until 24 December 1999
10.30am-5.00pm (Closing 4.00pm Feb, Mar, Nov and Dec)
ADMISSION
Adults £2.80
Children/Students £1.25
Senior Citizens £2.50
Family Ticket £6.90
Season Ticket £6.50
Under 30's Season Ticket £3.80
Family Season Ticket £15.00

Telephone: 01539 722464

---

Brewery Arts Centre
Presents a combination of professional performances and amateur participatory activities including plays, concerts, films, exhibitions and workshops, plus 3 major festivals a year. In addition to a Cafe restaurant and three bars, there is a 250 seat Theatre/Cinema, a 60 seat studio rehearsal space and a popular music/dance night venue. The ultimate one-stop arts experience in South Lakeland!

Opening times: Arts Centre; Mon-Sat 9am-11pm Box Office; Mon-Sat 10am-8pm
Admission free to the Centre and Exhibitions. Ticket prices to the Theatre, Cinema and Music events vary.
Telephone 01539 725133
---
Kendal Tourist Information Centre
Town Hall,
Highgate,
Kendal

Telephone: (01539)725758
Fax: (01539)724457

Services available include accommodation booking service, C.M.S. National Express tickets and information, holiday information, leisure passes, maps and guide books, NRA licences, SLDC car park permits, souvenirs, stamps, theatre tickets and trips and tour tickets.

COACHES are welcome, with a convenient drop off in the centre of town and easy parking plus comfortable facilities for drivers at Kendal Leisure Centre (Book 01539 729777). Free leaflet available from the Tourist Information Centre.

Leisure Services Department
South Lakeland House
Lowther Street
Kendal
Cumbria LA9 4UF
---
Low Sizergh Barn
- Where Quality Comes Naturally
If the thought of tasting naturally prepared and home- made recipe foods makes your mouth water, we have treat in store for you.
If you appreciate handmade crafts or would savour a country tea room with a most unusual view, you will find it all at Low Sizergh Barn.
Home Grown Goodness
When we first opened our 17th century Westmorland stone barn in 1991 to sell our own farm-grownfreshly picked strawberries, we were determined that only the best quality produce would be offered.
Since then the range of goods has grown enormously, but our quest for excellence remains unchanged.
The ever growing number of local customers and holiday makers who return time and time again seem to agree.
In 1997 Low Sizergh Farm was presented with a prestigous Broadoak farming award for our work in enhancing wildlife and landscape conservation.
Traditional Recipes
Low Sizergh Barn gives you chances to sample and enjoy one of the widest ranges of foods in the Lake District.
Our specialist cheese counter offers a mouthwatering array of textures and flavours. Over the years we have sought the best farmhouse cheeses, made to traditional recipes by small farms and dairies all over the British Isles. Just ask for a sample taste, making up your mind could be harder than you think.
Our meat produce offers a tempting display of home cured ham and bacon and succulent sausages. There is smoked salmon and local moorland raised lamb as well as organic free range chickens and turkeys that taste the way Christmas used to all year round.
Home And Away
As you would expect from an old oak timbered barn, there are nooks and crannies everywhere.
Look around and you will see locally prepared pickles and preserves, chutneys and jams. There are fresh fruits and vegetables and free range eggs from our own hens.
This was typed up by Matthew Lidiard, Year 8
---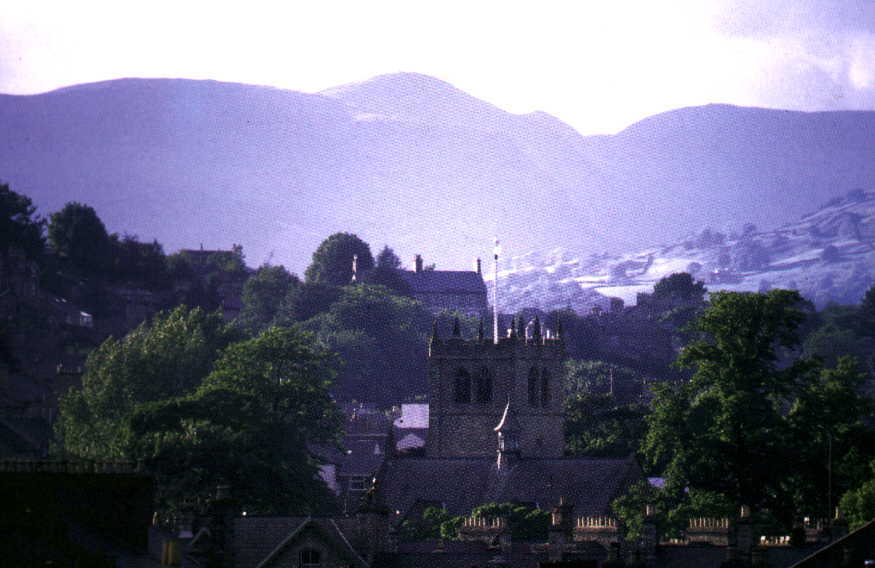 A nice picture looking North over Kendal to Kentmere.
---
More pictures of Kendal

Lakes Home page