Experimental link to alternative 'improved version'
Grasmere
Hi, my name is Tangwyn McCormick. I live in Grasmere.
Grasmere is a tourist destination about 4 miles north of Ambleside in the English Lakes in Cumbria. The village lies about half-a-mile from a lake which is about 1.5 miles long and about 1 mile wide. The main hotel in the village is the **** Wordsworth but there are also other good hotels and B&B's seem to be in plentiful supply. These can be booked directly or through the T.I.C.(Tourist Infromation Centre).
The best restaurant (if you can live without meat for one evening) is the Rowan Tree, located opposite the church. Another option is Baldry's Tea Room. More information can be found on their website at http://www.grasmerevillage.demon.co.uk There are also several pubs that serve bar meals, the best being the Traveller's Rest Inn on the A591 to the north of the village. Also in Grasmere is one of Mr Rhodes' favourite places for food, the Rothay Garden Hotel. You can read what he has to say about it on his Kendal page.
The Co-Op Village Store is the main shop in the village but there is a good delicatessen, Langmans, and a newsagents, Barneys. There are also all the usual tourist/gift shops.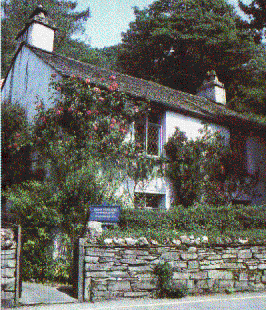 If you are a poetic buff the Dove Cottage Museum is the place for you. William Wordsworth lived there from 1799 to 1808. It is situated at Town End, just off the main road to the south of the village. He is buried in the churchyard which is situated in the village. The museum which is adjacent to Dove Cottage has most of his manuscripts.
Another of Wordsworths' homes was Rydal Mount which is situated between Ambleside and Grasmere.
Grasmere is very well located for bigger and smaller walks. Guides and maps are available locally. If mountainbiking is your thing then Grasmere is a good place to come although the nearest shop is in Ambleside. It's called Biketreks and is probably the best shop in Britain (I'm being serious) especially if you have some really technical queries or are in need of some damn good clothes. It also has an excellent hiring service where you can hire pretty good bikes and find out the best local routes.
If you're at a loose end mid-August then you maybe lucky enough to get the chance to see Grasmere Sports.

You can get more information from the T.I.C. The telephone number is 015394 35245.
---