ilocii

Who am I?
Bob Williams, 43yrs old from Pensby, Wirral, UK.

---
What are my interests?
Motorcycling
I enjoy motor cycling with my Laverda SFC1000 - some may call it a dinosaur these days but it's still one very fast dinosaur ;-)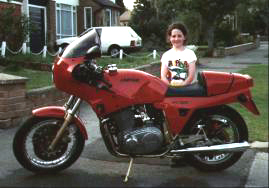 Laura (aged 8) with my SFC1000. If you know her mention this, Laura hates this photo which is 9yrs old ;-(

Since 1996 the Isle of Man and the TT Festival has been my annual trip, and long may it continue :-)
Hence the addition of Isle of Man / TT / Manx GP pages to my Italia Connections web site.
Mountain Bike
Riding purely for pleasure in a slow paced way. I have a Kona Explosif XT which is a really light steel framed bike. I've raced a few times (sort of - always finished, but never last ;-) once upon a time before the knee gave up.

Caravanning
A peaceful way of getting away from things with my family. We tend to end up on Anglesey these days, a little place called Silver Bay which is between to RAF Valley and Holyhead.

Rugby
Going back to the late 70's & 80's I used to play Rugby Union as a 2nd row forward. But I've now settled to life as a Dad watching Junior Rugby at Caldy RUFC, where my 14yr old son plays for their Under 14 Junior's. I may get involved in the coaching side again, but should I start playing again..... it's a bug, hard to give up after all these years - a bit like motorcycling ;-)
The above answer is that since late 1999 - YES! OK many have told me how daft the idea is/was but it still feels really good after all these years to play - and the pack is still as hard as ever it was. Don't play so often, but still enjoy - it just takes longer to recover after games ;-)
Boats and Fishing
Here's bit of a laugh. Steve and I have been having a go at sea fishing during the last couple of Summers. So in for a penny.... as such. during Summer 2001 I tried it from a boat, the bug bit and now I've now bought a boat! It's a Seahog Hunter with a 50hp Evinrude outboard. Should be a good little boat. The learning curve is steep though. I've now got to learn all about boating and I still know bugger all about fishing. Definitely feel I'm in deep water ;-o

---
Geneology
Searching my family tree is a more passive interest, but very interesting and rewarding.
Key surnames including:

Williams - from Liverpool at the turn of the 20th Century, but originating from farms named 'Glan Geirionydd' which is above Llanrwst and 'Bryn Conwy' near Trefriw, in Gwynedd, North Wales.
My G.Grandfather (David Williams) was born in Trefriw and by the 1891 Census in his late teens was shown as a stone mason. In 1895/96 his parents both died in Trefriw. By 1900 he was living in Liverpool, married with his first born son (my Grandfather), Caradoc.

Jones - from Llanddona, Anglesey, North Wales. This also refers to a Captain John Jones who was a Master on a ship (Pegasus?) that sailed from Holyhead in the 1800's. Apparently his daughter, Ellen (my G.Grandmother) was born at sea. I've yet to trace these records.

Roberts - from a farm called "Dol Llech" which is on the Nant-Y-Benglog, near Capel Curig, Gwynedd, North Wales.
I've traced the family back to the 1770's at this farm, but family tales state that we date back 600 years in the same farm. Unfortunately Welsh records pre-1700's seem quite difficult to follow (even with the benefit of the Welsh language :)

Williams - also from the above farm "Dol Llech" 1770 - 1800's.

Cowden - anywhere. This is my mother's surname, and fairly rare surname as far as I can tell.

Ryder - Liverpool area from 1800's through to recent times. This is on my maternal line.

---
Other Interests
Acorn's RiscOS is a pleasure to use, especially coupled with my StrongARM RiscPC. I now spend a lot of my time doodling on the computer, getting better though :-)
A side interest of this is my activities as Treasurer of LEG, the Liverpool (Acorn) Enthusiasts Group.


My kit:

Acorn RiscPC with StrongArm SA110 processor clocked at 202MHz (Intel Outside!) ... ok this one was built *before* Intel acquired the StrongArm processors ;-)

2Mb VRam, 66Mb DRam, Quantum Fireball 1280 EIDE harddrive, Toshiba 20x SCSI CD Rom drive, Castle Technology's 32bit Storm SCSI2 card.
Iiyama Monitor, 19" Pro 451 - still a wonderful screen :-)
Epson GT8500 A4 flatbed scanner.
Epson Stylus Colour 740 USB printer.
HP Laserjet 4 printer
3Com U.S. Robotics 56k X2 ext voice modem


On the software scene I use the following:
Ovation Pro, Font Directory Professional
ArtWorks, Photodesk v3
David Pilling's Twain driver & Imagemaster, ImageFS
R-Comp's - HTML Edit Studio, which includes HTMLEdit v4.42, Web Designer's Toolkit & SiteMaster v2.
Argonet's Voyager Suite v2.07, Fresco, WebsterXL v1.97 and Pluto v2.0 (excellent mail/news utility:-)
Ancestry v1 + v2 - currently trying out the demo of Ancestor, the replacement/sequal for Ancestry. Trying not to defect to Wintel :-(
Rhapsody v3
Plus various others.

I used to run a PC card inside my RiscPC, but have since accepted it's many limitations and built myself a box to hide under the desk.
It's a A full tower with a 350W power supply, Elite DDR motherboard, AMD Athlon 1.4GHz, with 256Mb Crucuial DDR RAM, Creative GeForce2 GTS 32Mb DDR graphics card, IBM 46Gb 75GXP h/drive, Asus 40x CD, Plextor PX412 SCSI CD-writer, Creative Live Value sound card, Windoze XP.
The above is networked to the RiscPC and provides a perfect system for me.
p.s. there's also a fair bit of PeeCee Software ..... I dislike so many things about the way things work .... BUT the reality is that there is so much available for the Wintel environment.

.... the startling point of note is the difference in hardware specification between my RiscPC and the PeeCee. - T.C.O. Total Cost of Ownership is a subject very much neglected by the PC magazines. The big problem with a PeeCee is that there is a relentless pressure to upgrade hardware which generally goes uncommented upon.
---
Here are some of my links.....
Laverda Page:

Italia Connection's Laverda Page with links.
Acorn Links:

Liverpool Acorn User Group (LAUG) home page.
---
How to contact me
You can email me at bob.williams@argonet.co.uk (or just click on this link:-)
---
This website is designed and maintained by Bob Williams and was last updated on the 11th December, 2001.
---